Purely Seasonal, Beautiful, Farm Fresh Flowers
Here at Welcome Table Farm we indulge in the beauty of growing fine cut flowers. As farmers we take pride in the freshness, quality, and long vase life of our blooms and greenery. As floral designers we enjoy the artistic aspects of arranging the rich colors, textures, and scents of our fields in bouquets- for you! Like our produce, our flowers are sustainable grown and certified organic. We use no pesticides, herbicides or synthetic fertilizers in their production. Blossom selection is based on the season with production running from April through October.
 Wedding Flowers
We are happy to work with you to design the perfect flower order for your event or wedding, from full service design for the bridal party and receptions to orders of loose flowers by the bucket for the DIY bride. Contact us to discuss scheduling, color and design options. Please make sure you include the date of your event in the initial correspondence. We only sell the flowers we grow, so early reservations for weddings is recommended! A basic price list is available below.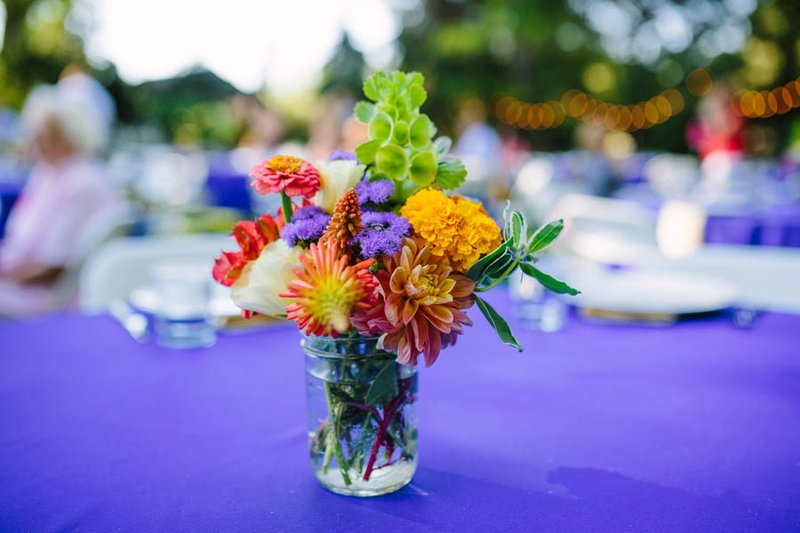 CSA Flower Subscription
Pick up a lovely bouquet for your table on Tuesday afternoons at the Farmstand or 303 Whitman in Walla Walla.  Our fresh, long-lasting bouquets vary every week and feature lilies, roses, pollen-less sunflowers, and many more floral beauties.  Tuesdays, June through September, 17 weeks= $240+tax. Local Buisness Delivery options also available. 
Local

2019 Wedding/Event Estimated Pricing
Arrangements:
            Bridal hand held bouquet: $60 
Bridesmaid hand held bouquets: $40 
Corsages: $25 Pin or wrist. 
Boutonnieres:$15
Large alter arrangements: $60
Tall buffet arrangements: $40
Table arrangements: $20
Mini or single variety vase arrangements: $12
Aisle/pew markers: $15
Garland: $6/foot
Arbor Installation: $175 per side
Loose Flowers:
            "Farmer's Choice Collection" 2 buckets of blooms, 1 bucket of greenery. $100
Bucket of blooms, approximately 1 dozen feature flowers and 4 dozen filler flowers. $45
            Greenery $25/bucket
  

(20-40 stems of raspberry, sedum, euphorbia, mint, etc…)
            Dried rose petals for aisle decoration/flower girl: $10/quart
Lilies @ $3/stem, size dependent (late May-mid July)
Peonies @$2/stem (May)
Sunflowers @ $1/stem (end of June-September)
Filler flowers@ $6/dozen
(A very rough quantity guide is 1 dozen flowers per 1 inch of vase opening width. For example a small mouth mason jar needs 2 dozen stems of flowers and greenery.) 
Associated Costs and Agreements:
__ $100 date reservation fee- to be placed with confirmed estimate. Payable online or by mailed check. Not required for "Farmer's Choice Collection" or loose flower orders under $300.
__ $100 delivery and set up fee or no charge for on-farm pick-up.